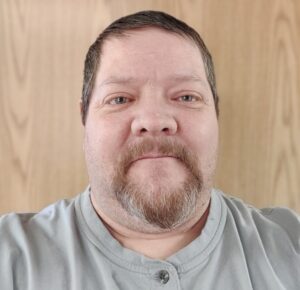 Hello everyone, my name is Brian Terrill!  I was hired on as the new IT Help Desk and I will be doing my best to fill the role that Andi is leaving behind.  I am super excited to dive in, tackle new challenges, and meet new people.  Being Oregon born and bred, I am originally from Sandy and grew up in Gresham.  Even though I grew up in the city, the country has always had my heart.  In 1996 I enlisted into the Navy, marking the first time that I lived outside of Oregon.  Becoming a Fire Controlman (Electronics Technician) I served two enlistments over ten years before being honorably discharged in 2006.  Most of my Naval career was spent in San Diego where I enjoyed spending my last tour on shore duty running the IT Department for Bachelor Housing on Naval Air Station North Island.
After the Navy, I moved back to Oregon and earned degrees in "Computer & Electrical Technology", "Industrial Automation Engineering", and "Drafting & Design Technology".  I have worked most of my life with or around computers and electronics.  Some of my experience includes working for Umpqua Bank as an IT contractor, working as a printer technician refurbishing printers for resale at an ink and toner business, and several companies as a draftsman.  I even moved to Boise to work as a drafter for the Bureau of Reclamation before moving to Bend to be with my wife, and from there we moved to Hines to be closer to family.  We both have found that that after a couple of years here, we absolutely love it.  It's so much better here than living in a big city.
When I'm not working, I have come to truly enjoy the home life with my wife and our little family of pets.  We are proud parents of two dogs, two cats and a rabbit.  We like to lounge on the couches with dogs and cats while watching TV and doing home projects.  Neither of which ever seems to be over.  However, my hobbies include hunting/camping, reading, wood working, building various types of models and learning about history, geology, geography, science & technology.