The Burns Paiute Tribe's Administration Department is committed to the responsible operation of Tribal Services. To preserve and promote the Burns Paiute sovereignty and to enhance the health and economic well-being of the Burns Paiute Tribe.
The mission of our department is to provide reliable support and development to the Burns Paiute Tribe. Whether it be developing infrastructure plans or end user support we strive to give the tribe the tools they need to advance in the fast pace world of communications.
Office hours: Monday-Friday 8:00am – 5:00pm
Phone: (541) 573-2088
| Title | Job Title | Email | Phone | Cell Phone |
| --- | --- | --- | --- | --- |
| Jonathan Mocan | IT System Administrator/Director | [email protected] | 541-573-8061 | 541-413-0453 |
| Andi Harmon | IT Help Desk -- Contractor On-Call | [email protected] | | 541-589-2074 |
| Brian Terrill | IT Help Desk | [email protected] | 541-573-8059 | 541-589-3485 |
Our job is to maintain the buildings, janitorial services, groundskeeping, water services and other repairs and maintenance as needed.
| Title | Job Title | Email | Phone | Cell Phone |
| --- | --- | --- | --- | --- |
| Suzanne Settle | Emergency/Fire Management Coordinator | [email protected] | | |
Emergency Management Services
Emergency Managment Services
Objective: To prepare the Burns Paiute Community in the event of a natural disaster or a man-made caused disaster.
Tribal Fire Services
Objective: Burns Paiute Public Safety – Fire Protection Services have initiated services to meet the responsibilities of fire protection for the Burns Paiute Indian Community, and mutual aid assistance to the surrounding communities.
NEW!!! EMS has their own page! 
>>> CLICK HERE <<<
TRANSPORTATION PROGRAMS
Government to Government – BIA Roads Planning Program:
Objective; To maintain planning, designing, scoping, engineering, road construction and safety features on Tribal Roads.
PL 93-638 Roads Construction Contract:
Objective: To use the last PL 93-638 funds for road construction or road scoping projects under this Program.
TRIBAL TRANSIT SERVICES
Special Transportation Funds (STF) Program:
Objective: To provide and maintain a Tribal Transit Service for the handicap, Seniors and low-income members on the Burns Paiute Reservation and the General Public residing in the Cities of Burns and Hines.
5310 Enhanced Seniors & Disabled Program:
Objective: To improve the ability of seniors and disabled persons to ride our Tribal Transit Service on our scheduled routes.
Special Transportation Improvement Funding (STIF) Program:
Objective: New Oregon Legislative Directive to improve the funding of all transportation systems within the State of Oregon; maintain continued transportation funding without any disruption for funding.
For more information, click here for the Tribal Transit page!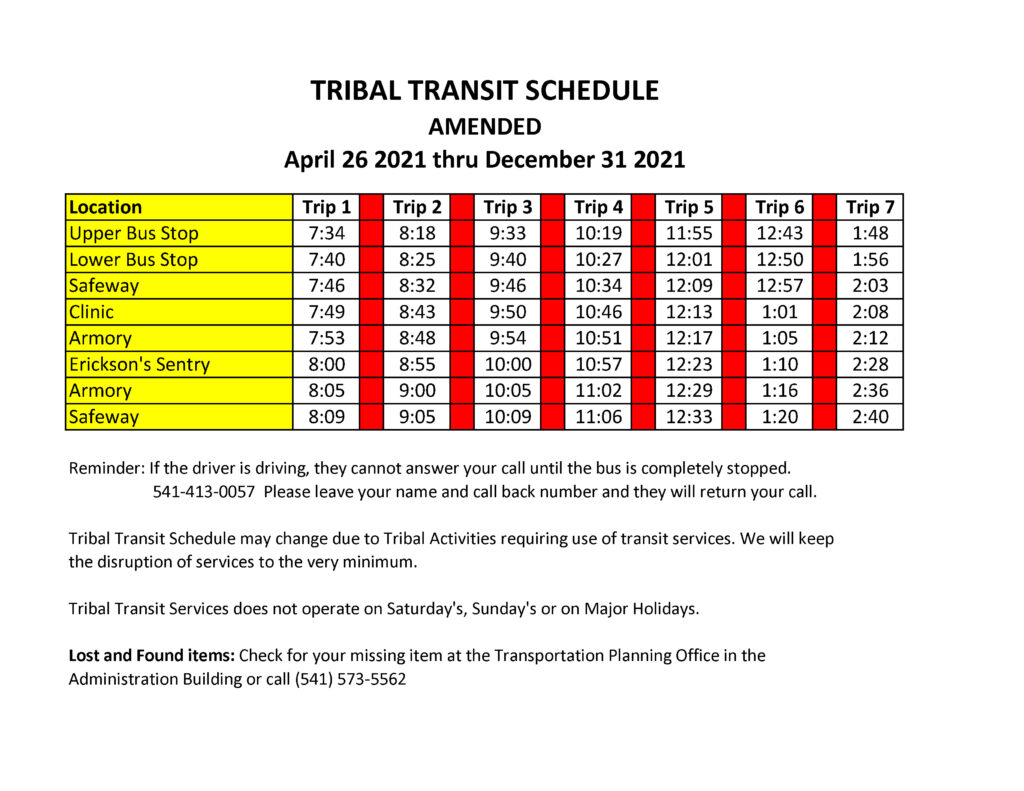 100 Pasigo St
Burns, OR 97720
Phone: (541) 573-2088
Fax: (541) 573-2323