Announcement from the BPT Natural Resources Department: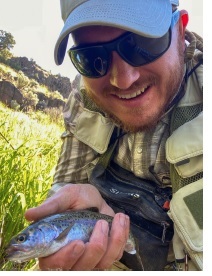 The Burns Paiute Tribe Natural Resources Department is pleased to announce that Brandon Palmer is our new Wildlife Program Manager. Brandon has replaced Carter Crouch, who has held the position for the last three years.
Brandon has his Bachelor of Science in Fisheries and Wildlife from Michigan State University, obtained in 2014, and his Master of Science in Range and Wildlife Management from Texas A&M University-Kingsville in 2019.
Brandon has been the Wildlife Biologist for the last two years prior to taking on his new role. In that role, he led several monitoring efforts conducted by the program, including sage-grouse surveys, amphibian surveys, vegetation monitoring, and propagating the rare Oregon semaphore grass. 
Brandon will be leading the Wildlife Program and ensuring the goals of the Logan Valley and Malheur River wildlife mitigation projects are met. These projects were initiated to support healthy and diverse fish and wildlife communities through habitat management and research.
When he is not working, he can be found spending plenty of time outdoors, whether it be hunting, fishing, hiking, camping, kayaking, helping on the ranch, and outdoor photography. He also enjoys cooking, reading, and volunteering in the community and in his local parish church.
He can be contacted at (541) 573-8019 and at his email address: [email protected]